A Hingham teenager suffered serious injuries after he was struck by a boat while tubing near the Hingham Yacht Club over Labor Day weekend.
According to investigators, the victim and two other teenagers, all 13-years-old, had been tubing in a designated tubing and waterskiing area between World's End and the yacht club. The teens were being pulled by a 13-foot Boston Whaler motorboat, operated by a fourth 13-year-old Hingham resident.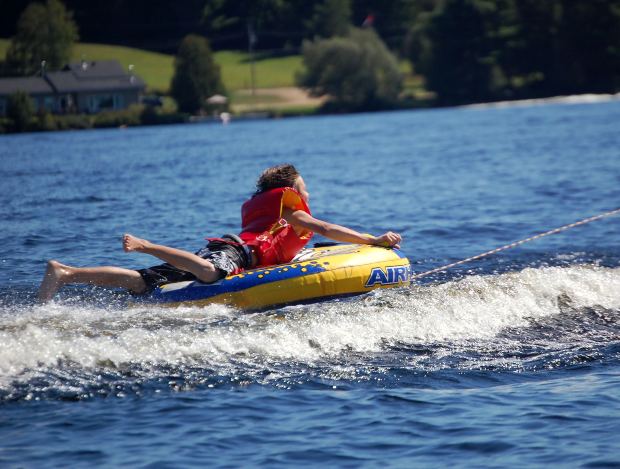 One of the three teens had apparently fallen off the tube after it passed over the wake, and as the driver went to pick the young man up, he drove toward the tube with two of the teens still on it. The boat struck one of the teens, and continued over him.
The teen was dragged back on board and brought immediately to Hingham Yacht Club where he was then transported to South Shore Hospital and admitted with serious head and arm injuries. Officials, including the Hingham harbormaster, said all the young men were wearing approved personal flotation devices, however the operator of the boat had not completed a Safe Boating Course required for those 12-16 years old to operate a motorboat without being directly supervised by someone 18 years or older.
While inexperience seemed to be the leading cause of this particular recreational boating accident, boating mishaps can happen for many different reasons, and are often the result of careless or reckless operation, inattention, speeding, and alcohol use. Just like driving a car, operating a boat is an important task. Some of the most commonly reported types of accidents include:

• Boats colliding with other boats • Flooding, sinking, or swamping of boat • Collisions with fixed objects • Overboard falls • Waterskiing, tubing, or wakeboarding accidents
Boating accidents are not merely limited to recreational vessels, and can occur on cruise ships, U.S. Navy vessels, and on other maritime vessels. Injuries from boating incidents can often be serious or even fatal. While the young Hingham man in this story was seriously injured, his injuries could have been much worse. When someone is injured from a boating accident, accessing the proper medical treatment is crucial. Sometimes treatment of these injuries may include nursing or homecare, as well as psychological counseling, and can be both costly and life-altering to a victim as well as his or her family members.
If you or someone you love was the victim of a boating accident, it is important to discuss your case with an experienced attorney. At the law offices of Altman & Altman, LLP, our seasoned Boston Boat Accident Attorneys have nearly 50 years of experience handling maritime incidents. We understand the frustration and confusion that comes with any type of personal injury and we have the experience and knowledge to not only field all of your questions, but help you fight for the compensation you deserve. We have litigated hundreds of cases against insurance companies and recovered millions of dollars in settlements and jury awards for our clients. Our attorneys are available 24 hours a day, 7 days a week to answer any and all of your inquiries. Call our office at (617) 492-3000 or toll-free at 1(800) 481-6199 or email our office today to schedule a free initial consultation.
Original Article from WCVB.com