Officials at Catholic Medical Center in Manchester, New Hampshire, believe as many as eight patients may have been exposed to a life-threatening, dementia-causing disease as a result of unsterilized tools used in their neurosurgery unit.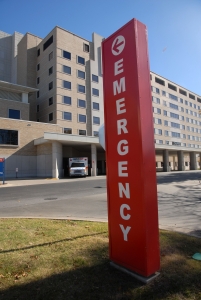 According to the Department of Health and Human Services, a neurosurgical patient treated at the New Hampshire hospital is suspected to have had sporadic Creutzfeldt-Jakob disease (CJD), a degenerative neurological disease caused by a prion, a defective protein. Officials at the hospital believe that the prion may have been transmitted to patients through surgical equipment that was not fully sterilized. During normal sterilization procedures, these prions may not be fully eradicated.
CJD has only been transmitted through surgical procedures four times, and never has this type of incident occurred in the United States. Officials also believe that the disease may have been transmitted to patients in other states, as the surgical equipment that was used, was rented. A spokesperson for the hospital and the director of public health, Dr. Jose Montero, said he believed that the risk for transmission and infection of the disease was minimal, however after extensive investigation, it could not be concluded that there was absolutely no risk for infection.
What is Creutzfeldt-Jakob Disease?
Spontaneous CJD has no known cause, and occurs unexpectedly. It is characterized as a progressive brain and nervous system disease that causes dementia and eventually death. Some of the most common early onset symptoms include personality changes, confusion, memory loss, impaired judgment, loss of muscle coordination, and loss of vision. Unfortunately there is no treatment or cure for CJD.

Filing a Medical Malpractice Claim
Thousands of patients are injured or killed each year in the United States as the result of negligent acts of medical professionals. Cases of malpractice can take place in a variety of settings and may involve doctors, dentists, surgeons, midwives, anesthesiologists, technicians, oncologists, and other types of medical staff. While there is no amount of money or compensation that can recompense your injuries or the loss of a loved one, victims and family members of victims of medical malpractice are entitled to financial relief through a Massachusetts Medical Malpractice Lawsuit or Wrongful Death Lawsuit.
Because medical malpractice cases are often very complex, it is advised that victims and their family members contact a Massachusetts Medical Malpractice Attorney as soon as possible.
At the law offices of Altman & Altman, LLP, our team of dedicated attorneys has nearly 50 years of experience litigating and settling various types of malpractice cases. We understand the difficulties and obstacles faced by both victims and their family members as a result of a medical error. Our lawyers promise to stand by your side throughout the entire course of your claim and will aggressively advocate on your behalf in order to help you navigate these difficult waters and get the compensation that you are entitled to.
We have both the experience and knowledge to carefully evaluate a wide range of cases including misdiagnosis, delayed treatment, failure to diagnose, birth injuries, surgical mistakes, physician errors, hospital-induced infections, hospital negligence, prescription errors, inadequate staffing and/or inadequate safety. We will look into every detail of your case and will explore every legal avenue available in order to deliver legal representation of the highest quality.
Upon initial evaluation of your case, we will be able to determine whether you are eligible for receiving compensation through a Medical Malpractice Lawsuit. If you or a loved one was a victim of medical malpractice do not hesitate to call one of the lawyers at Altman & Altman. We pride ourselves on being available to our clients around the clock, and we will meet with you at a place that is most convenient to you, whether it be at our office, at your home, or at the hospital. All initial consultations are free and confidential. Call our office today at (617) 492-3000 or email us.
Original Article from www.WCVB.com